How to Jump Start a Car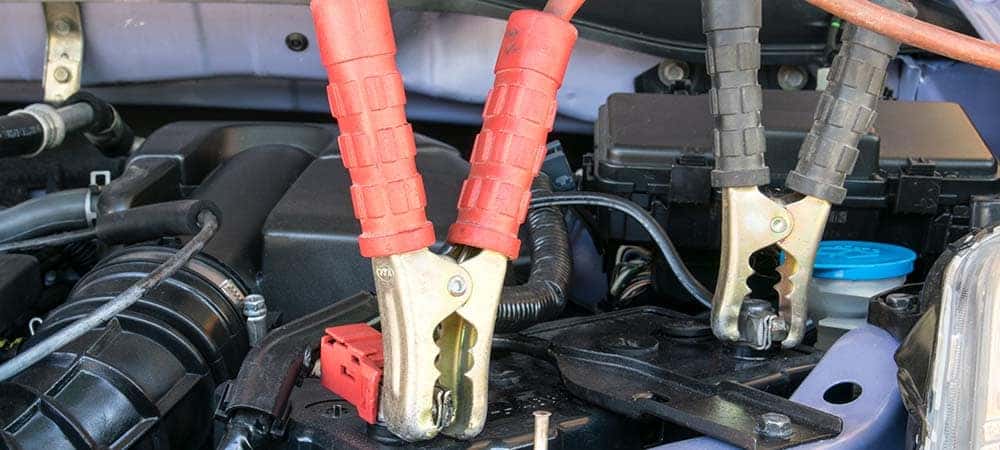 So, your car won't start? There is a good chance you might need to jump start your car battery. Follow this guide on how to properly jump start a car from Dover Honda. If your battery is nearing the end of its life, visit our service center near Salem for a replacement.
The Proper Way to Jump Start a Car
Before you get started, you need to acquire a set of jumper cables as well as another vehicle with a charged battery. You can also call a jump start car service like AAA. Once you have everything you need, follow these steps:
Park the car with the good battery facing the car that won't start, then make sure that the vehicle is turned off. Make sure the parking brakes for both cars are engaged.
Open both hoods and locate the batteries. To access the battery terminals, you may need to remove a plastic hood.
Identify the positive and negative terminals and check that they're clean and free of any corrosion.
Place the red clamp to the positive post on the dead battery.
Uncoiling the battery cable, connect the other red clamp to the positive terminal of the battery with the charge.
Hook the black clamp to the negative post on the good battery.
For the final clamp, connect it to an unpainted metal surface on the car's frame.
Once everything is securely fastened on both vehicles, start the engine of the vehicle with the good battery. Then the vehicle with the dead battery.
More Battery Tips and Tricks
In the event your car won't jump start, you may need a battery replacement, or it may be a sign of a more serious problem. Try these troubleshooting steps at home to see if they help the issue:
If you only hear a clicking sound when you try to start the car, the starter might not be functioning. Schedule service at Dover Honda near Saco for a replacement.
If the engine fails to turn over, but electrical systems of the car turn on, the problem could be a number of issues. The ignition switch, battery, starter, or a fuse could be the problem. Bring your vehicle to a service center so they can check out the issue.
Make sure to keep your vehicle running for a while after you jump start the battery. This allows the battery to recharge fully after it's been drained.
Turn to Dover Honda for Service
If you need help with a new battery or have to reset your Accord radio codes after a jump-start, reach out to us at Dover Honda! Our service center is located just a short trip from Bow, and we have a rotating selection of service specials and coupons to help you save money on your maintenance and service needs.
More From Dover Honda
If you're in need of a midsize pickup truck that can handle your work and outdoor adventures, without draining your wallet dry at the pump, then you'll want to take a closer look at the 2022 Honda Ridgeline gas mileage. With the surprisingly generous Honda Ridgeline MPG ratings, you can minimize the impact of the…

The 2022 Honda Civic is a fun, affordable, and efficient vehicle, making it a great choice for drivers in Stratham. Better yet, you can customize your Civic Sedan by choosing from the new interior and exterior Honda Civic color options. What are the Honda Civic color options? Check out the options below, and then learn…

Saco is buzzing with the upcoming release of the 2023 Honda CR-V. These SUVs have been one of the most reliable and efficient vehicles that be driven today. With the CR-V, you get an efficient SUV that can give you a thrilling driving experience, which is why there's so much anticipation for them. If…
</div>