How Do You Use and Customize the Honda Clarity Driver Information Interface?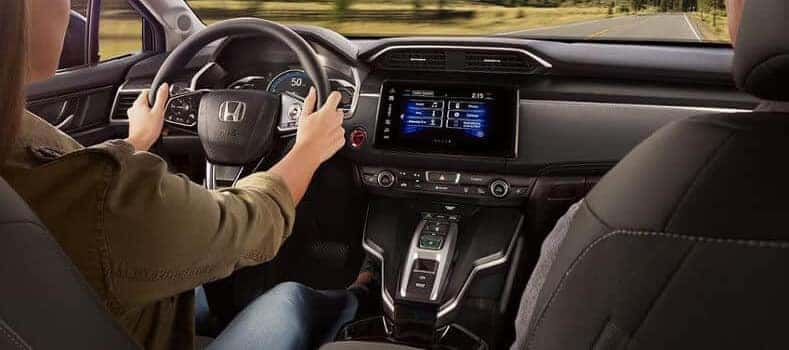 The Driver Information Interface is located on your Honda Clarity instrument panel, and it has customizable controls mounted on your steering wheel. This allows you to interact with the interface and operate more functions without taking your hands off the wheel during Portsmouth drives. Follow the steps below to find out how to adjust these settings to your liking, then learn about more features like Honda Clarity performance at Dover Honda near Rochester.
Steps
To USE the Driver Information Interface
On the left side of the wheel, press the DISPLAY/INFORMATION button activate the Driver Information Interface.
Use the LEFT/RIGHT arrow buttons to get to the feature you want interact with.
For example, if you want to access AUDIO, find click the music note icon.
Press the ENTER button to see detailed information the audio options.
Use the UP/DOWN arrows to find your preferred audio source, then press ENTER.
Press the LEFT/RIGHT buttons to select radio stations.
Press VOL+ and VOL- on the volume bar to adjust volume.
To CUSTOMIZE the Driver Information Interface
Select Settings
Select System
Select Configuration of Instrument Panel
Select Edit Order
Select the icon you want to move
Use the arrows to move it to the desired spot on the interface
Select OK
To ADD icons to the Driver Information Interface
Select Add
Select the icon that you want to add (customizable icons will have a "+" sign in the corner)
Select OK
To DELETE icons from the Driver Information Interface
Select Delete
Select icon that you want to delete (removable icons will have an "x" in the corner)
Select OK
Learn More at Dover Honda
Check out more features on the Honda Clarity by comparing it to the Toyota Prius and the Nissan LEAF, or get more how-to guides from Dover Honda, like how to check tire tread depth, or how to become a more fuel-efficient driver! If you have questions about your Honda Clarity or anything else, don't hesitate to contact us in the Somersworth area!
More from Dover Honda